a perfect solution for converting the 16-bit/32-bit PC Card to standard ExpressCard/34.

supports any kinds of PCMCIA and CardBus PC Card applications,
such as 16-bit memory card adapter, ATA card, 32-bit 3G/3.5G I/O card,
wireless I/O card, etc. It is a very convenient device for any Notebook or PC
equipped with ExpressCard socket to use PC Card.

Features
ExpressCard (PCI Express x1) interface.
ExpressCard/34 design; can be inserted into any ExpressCard/34 or ExpressCard/54 sockets.
32-bit CardBus PC Card support.
Compliant with PC Card Standard Release 8.1 Specification.
16-bit PCMCIA PC Card support.
Compliant with PC Card Standard Release 8.1 16-bit Specification.
Hot swap support - cards can be plugged and unplugged without system power-off or reboot.
2 LED are quipped for indicating the status of power and access.
Provides 3.3V / 5V power operation.
Supports Windows XP / Vista / Windows 7.(NOT for Mac)
Suitable for any notebooks with ExpressCard socket to use any 32-bit/16-bit PC Card.
PC-EXP Workaround for Some 16-bit R2 PC Card Issues
These instructions are for attempting to correct an issue sometimes seen when using some 16-bit PC Cards on modern systems via the Digigear 16bit/32bit cardbus PCMCIA PC card to Expresscard adapter/reader
SYMPTOMS
The R2 (PCMCIA Release 2.x) PC Card does not start, and you see the following error message in Device Manager:
This device is either not present, not working properly, or does not have all the drivers installed. (Code 10)

Try upgrading the device drivers for this device.
CAUSE
This behavior occurs because some R2 PC Cards do not support interrupt request (IRQ) resource sharing. In The Windows XP or in Windows Vista, and perhaps Windows 7, 16-bit PC Card (PCMCIA) PCI readers can use R2 PC Cards (the 16-bit ISA type) without requiring an ISA runner paddle to obtain ISA interrupts.
RESOLUTION
All of the following procedures must by done under a user account with administrative permissions in order to work correctly.
To resolve this behavior, setting IRQ Route To PCI Controller to allow these PC Cards to function in laptop computers:
Start Registry Editor (Regedit.exe).
Locate and click to select the following key in the registry: HKEY_LOCAL_MACHINE\System\CurrentControlSet\Services\PCMCIA\Parameters
On the Edit menu, click New, click DWORD Value, type IrqRouteToPciController in the New Value box, and then press ENTER.
Click to select IrqRouteToPciController, click Edit, and then click Modify.
In the Value data box, type 8, and then click OK.
Quit Registry Editor.
Alternatively, download the IrqRouteToPciController.reg (IrqRouteToPciController.zip) file. First unzip and then double click to add the entry to the registry. Quit the Registry Editor when done.
Registry prior to editing.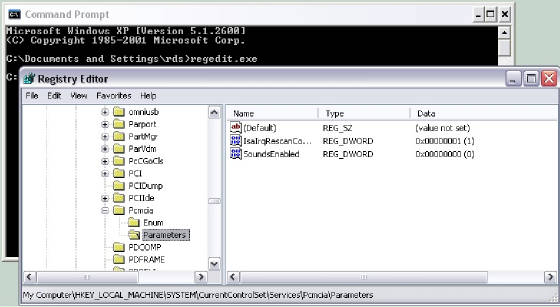 Registry after editing.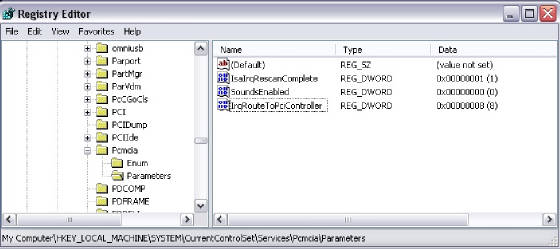 This procedure disables PCI routing for 16-bit PC Cards.
With this feature, you can successfully install 16-bit PC Cards on computers that are low on ISA interrupts by using a shared-PCI interrupt.